PLaYFUL Landscapes around the State
Click HERE to view this article in full.
A NATURAL PLAYSPACE IN ALBANY
When Virginia and Tom McKone first met with us to design a new front and back landscape after a major expansion of their small Albany home, it was clear that creating a place for exploration and play for their young friends who visit regularly was a key element. The front already had a bench built into the retaining wall under a lemon tree to welcome passersby to sit a moment or pick a lemon to enjoy. The back was a slope of dirt and weeds above a new dining patio calling for transformation.
PUMPED UP IN SARATOGA
What to do with a long narrow backyard for a father and his two sons who love to bicycle?
Why, build a pump track, of course. A pump track is a circuitous route with measured built in berms and rolling mini hills that allow the rider to ride without pedaling. By skillfully using momentum and a "pump" action with the arms the rider is able to pick up speed with quite a workout.
AN ARCHITECTURAL COLLABORATION IN ECHO PARK
Stephanie's client, architect Barbara Bestor transformed this house from a tarpaper shack into a contemporary architecture showpiece. Stephanie Bartron designed a garden to match, extending the architectural program into the backyard with a large outdoor living/dining room. At the front edge of the property, between the fence and the pergola, lies a secret children's garden with sandbox, climbing rock, swings and vegetable beds.
A PLAYFUL SLOPE IN OAKLAND
Mix together a sloping front yard and a two-year-old and you get a bright red slide running down a low water-use tropical garden. On a busy corner in Oakland, the two-year-old has a safe place to play, and on the opposite side of the front pathway, the dogs have a place to play also.
FAMILY FARMHOUSE IN CARDIFF
If something in your life does not give you joy; whether that is clothing, accessories, relationships, or your landscape, then it is not worth having clutter your mind. At Falling Waters we take the plunge into what a client really wants and needs within the landscape and we discard the rest: a Kondo methodology.
We used this process with the Oxford Ave project a Farmhouse in Cardiff; the homeowners had a decent amount of space to fill and it was our challenge to design it intentionally.
NATURAL LIVING IN BELMONT
The homeowners loved the natural feel of their property which is on a moderate down sloping lot in Belmont. A large Coast Live Oak at the center of the backyard space provided a beautiful focal point. The main objective for the homeowners was to make the site more useable and safe for their young children to play.
STAYCATION HAVEN IN SAN CARLOS
The backyard had only 15' deep patio and some artificial turf framed by a 5' high concrete retaining wall. There was an existing very steep and unsafe stairway which let to a large up sloping hill. Our objective was to create a safe and comfortable connection between the two spaces and to make the hill more usable. We terraced the hill into 3 sections. The first for a vegetable and butterfly garden, the second for lawn, hot tub and fire pit and the third terrace includes a playhouse, climbing logs, dry creek bed and a deck which offers a spectacular view of the Bay.
EDIBLE FRONT YARD IN SANTA BARBARA
The backyard had only 15' deep patio and some artificial turf framed by a 5' high concrete retaining wall. There was an existing very steep and unsafe stairway which let to a large up sloping hill. Our objective was to create a safe and comfortable connection between the two spaces and to make the hill more usable. We terraced the hill into 3 sections. The first for a vegetable and butterfly garden, the second for lawn, hot tub and fire pit and the third terrace includes a playhouse, climbing logs, dry creek bed and a deck which offers a spectacular view of the Bay.
WHIMSICAL FUN IN SANTA CRUZ
This project was part of an overall home renovation. The owners wanted the garden to reflect, and be an extension of, the colorful and highly personalized interior of their home. They wanted an expansive space for entertaining both adults and children. The patio accommodates outdoor dining and relaxing and provides a fun place for their young daughter and her friends to play – the artificial turf spiral wraps around a covered sandbox. Along the back of the property another patio was created next to a creek that runs yearlong.
A PLAYFUL HILLSIDE IN CUPERTINO
The hillside gardens of this property were destroyed during an extensive remodel. Only a lone Redwood at the front of the property and a massive Live Oak on the hillside were saved. The clients wanted a modern look to complement the updated architecture. There is a seat wall and sand box in one of the side yards that can be turned into a patio area after the children are grown. A slide down the hill under the big Oak is a feature on the other side of the house.
A FAMILY-FRIENDLY GARDEN IN MORAGA
This family friendly garden occupies three levels. The highest level was designed around a wood play structure. Decomposed Granite, with a stabilizer, circles the play mulch, allowing the children a place to ride their pedal cars. A circular Blue Stone Patio is the perfect place for adults to gather and watch over the children.
CANYON FAMILY PLAYGROUND IN LOS ANGELES
Sited in the canyon and surrounded by giant trees, this shady property had a tendency to stay moist and muddy. Improving the entry and walkway to this contemporary home in the canyon was essential.
The new design called for laying the existing small slate flagstone into larger raised pads of grey-colored concrete for a sound pathway to the front door. They were poured in place with impressions of sycamore leaves. Woodland plantings in green and burgundy hues included oak leaf hydrangea and Japanese maple; and succulents provide year-round beauty.
Photo courtesy of Laura Morton, FAPLD.
This experiential garden was created with a sense of enchantment for people of all ages at the Los Angeles County Arboretum in April 2007. In this 30'x30' art installation, visitors moved through ten distinctive interactive features designed to bring greater awareness in one's own life journey. People sat at the "Table of Transition" to write their notes for "The Wall of Wishes". Here are a few wishes people put on the wall: "I wish no one got sick", "I wish that my tortoise will stay healthy", "I wish to be creative every day", "I wish to live with cancer for 15 years okay", "I wish for more love in everyone's hearts", "I wish for personal calmness", "I wish the world was like this garden".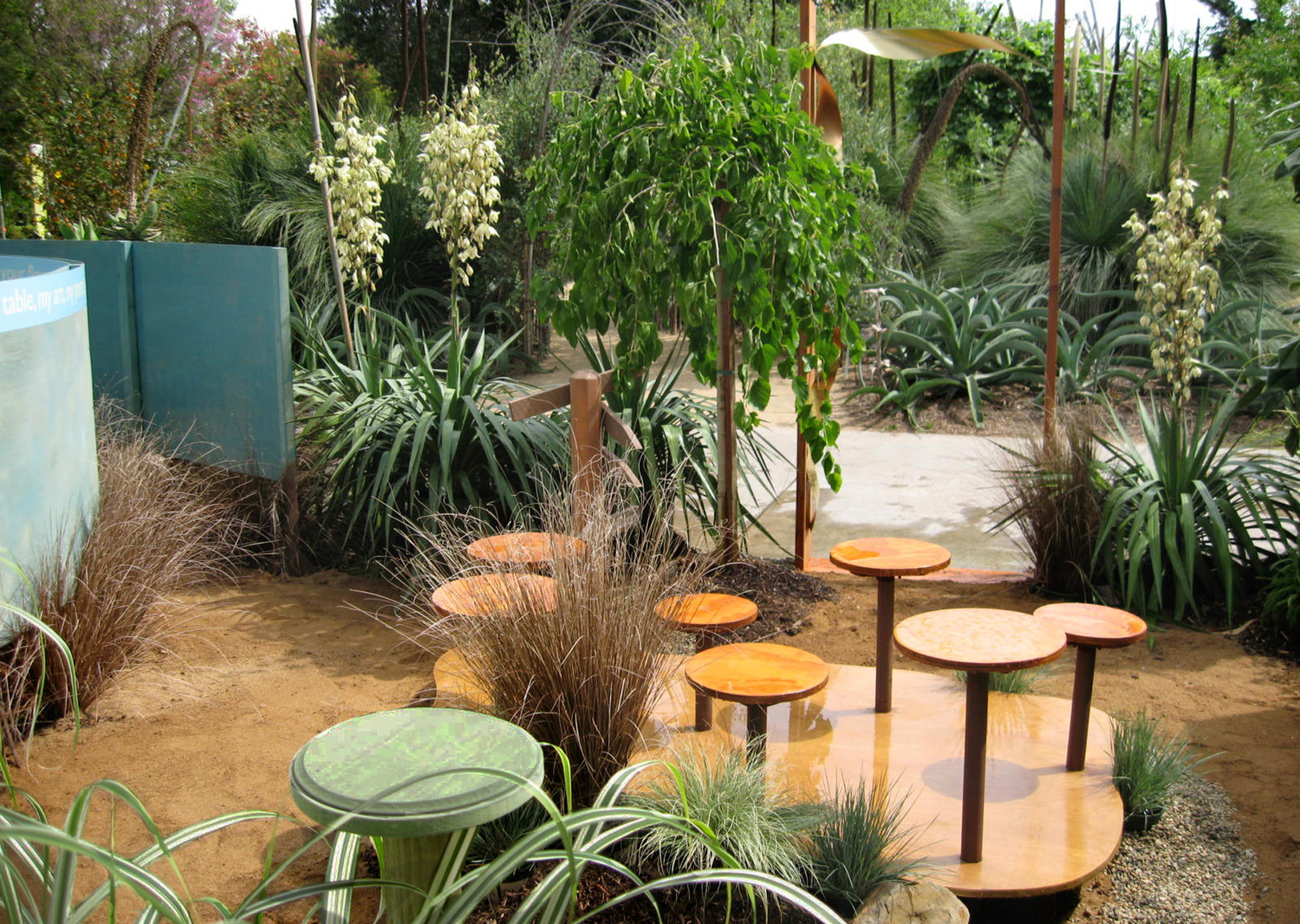 Photos courtesy of Ashley Elizabeth Ford.
HANNA FENICHEL GARDEN CLASSROOM
This Garden Classroom is serenely shaded by a bountiful pepper tree and constructed of repurposed building materials. The area is primarily focused on providing children with a natural environment for collaborative exploration of nature. Abundant raw materials (such as stones, sticks and pinecones), along with other loose parts and compostables are examples of the organic composition that makes the Garden Classroom such a special place for exploration and discovery. Here, children are encouraged to work together, imploring their imaginations to discover the world's physical elements. Examples of discovery include children working in the mud kitchen, maintaining the raised garden beds, bird and lizard watching, examining insects through microscopes, and much more. Our explorations are deepened by plenty of books and music.
Anne-Emilee Gold, in collaboration with Island Construction. designed this playground based on The Carnival of the Animals: a musical suite by the French Romantic composer Camille Saint-Saëns. Play elements refer to different musical movements of the suite such as "The Elephant", "Tortoises", or "The Cuckoo's Nest".
Click images to enlarge.
THERAPEUTIC GARDEN LEARNING
When I began volunteering at Vista Del Mar Child and Family Services, I had no idea that I would get the opportunity to create not one, but two large therapeutic and edible gardens. In the fall of 2013, I had just completed my coursework for a Horticultural Therapy certification, but I needed to secure an internship where I could put in 480 hours as part of becoming registered in the field.
I had spent a fair amount of time gardening with children at my own children's schools and I saw first-hand how helpful a garden environment was for kids struggling with challenges. Knowing that I wanted to work with the special needs population in a school setting, I began to look at satellite images of such schools within traveling distance that seemed to have enough outdoor space to accommodate a garden.
I felt like I hit the jackpot when I found Vista Del Mar, which has a 22 acre campus situated on the border of Cheviot Hills and Culver City. In short order, I was set up to help one of the teachers run a high school gardening program in a humble and weed-infested section of an old lawn—we spent more time weeding than growing food. As a landscape designer, I couldn't help but ruminate over many ways our garden space could be improved and increased. What I ultimately proposed was a totally new garden with 15 raised beds, a native section, a small orchard, compost bins, habitat supporting plantings and a meeting area with shade. The proposed site would include the footprint of our current sad little garden, some adjacent asphalt and more weedy lawn that served no purpose, totaling about 5,000 sq. ft.
We were very fortunate to get a donation through John Paul DeJoria's Peace Love and Happiness Foundation to cover the cost of the new garden and to hire me as a part-time horticultural therapist. The universe was definitely telling me I was on the right path. The garden has been in place since the winter of 2015 and is a thriving program that serves kids from kindergarten through age 22. The students struggle with various intellectual and developmental disabilities with many kids having suffered trauma and abuse. These are students who often have quite disruptive behaviors or need a lot of direction in order to accomplish a task. These kids need to diffuse energy, gain a sense of proficiency and get outside. We maintain the gardens in their entirety, from pruning, weeding, adding compost tea, mulching—everything. I am proud to say that during the last year, we've begun to offer up our harvest in Vista's own CSA program.
The garden program is meant to be therapeutic on many levels and help the students work on the following objectives.
Listening and attuning to environment

Impulse control — limiting verbal or physical interruptions and oppositional behavior

Following a short set of directions in proper sequence

Getting along with each other!

Observation and discernment — What is the season? What are we growing? How does that feel/taste/sound? What is ripe? What tool do I need?
In designing the garden space I had the following considerations in mind:
Enclosure — I wanted the garden to feel like an enclosed safe place. Our location right next to the parking lot was not only a safety concern but an aesthetic issue. A split rail fence and a long berm of California native plantings serve as the buffer between garden and asphalt.
Circulation — The 15 beds are laid out in a grid with plenty of space to circulate around them. The orchard/native area is much more organic in shape with a figure "8" pathway serving as the way to get around. As there is always some hand watering to do, compost chopping or just flower picking this is a great area to send a student who is having a challenging time working with the rest of the class. .
Beautification and respite — Working with this population takes a special person and my hat is off to the teachers and support staff who do it day in day out. I wanted to design a beautiful place where staff could come and just de-stress. In addition, therapists on-site often take the kids they are working with and meander through the gardens while they are talking which beats sitting in an office any day. In planning the garden, I used plants that have aromatic leaves, attract wildlife with flowers or berries and provide a long season of bloom.
Thoughtful Storage — A place for lots of tools and classroom supplies was vital.
The "Peace, Love and Happiness" garden has been a huge success. In fact, it inspired another even larger donation to build a second garden outside of the residential unit of Vista Del Mar where adolescents live. This newer garden was installed in the summer of 2016 and was funded by the Francesconi-Tisch Charitable Fund and is called "Katia's Garden." This garden was developed in the 8,000 square feet of weedy lawn adjacent to the residence where we were able to capture rain from 9,000 square feet of roof to channel into two rain gardens.
Now we at Vista have what you might call an embarrassment of riches in the garden department. On any given day, you might find the students and I building a scarecrow or propagating plants, but it's much more likely we are getting our hands dirty, tending to our own little paradise.