PLAYFUL LANDSCAPES AROUND THE STATE
A NATURAL PLAYSPACE IN ALBANY
Growing up in Menlo Park, my brother and I spent hours in the San Francisquito Creek catching pollywogs, building forts, exploring the dark tunnels and steep banks. It was our natural adventure land. When Virginia and Tom McKone first met with us to design a new front and back landscape after a major expansion of their small Albany home, it was clear that creating a place for exploration and play for their young friends who visit regularly was a key element. The front already had a bench built into the retaining wall under a lemon tree to welcome passersby to sit a moment or pick a lemon to enjoy. The back was a slope of dirt and weeds above a new dining patio calling for transformation.
We started by designing a promontory with a gravel patio/play space ringed by boulders. There are two basalt bird baths integrated into the upper side for sitting on which are often used for collecting rocks and putting other treasures. Round river rocks can be moved around as desired. There are two naturalistic paths with larger Mariposa stone treads that connect to a concrete patio and to the back edge of the retaining wall for the dining patio. This is designed as a circuit that takes kids through out the space and a variety of textures. Along the way there is a basalt column with a polished basin to attract birds and encourage water play.
The plantings had to be kid and dog friendly with the feeling of natural California. We ringing the play spaces with grasses for softness and durability, and used Calamagrostis 'Karl Foerster' to create some height and separation while keeping sight lines open for adults to subtly keep an eye on things. The slope of the hill is planted with Artemsia 'David's Choice', Penstemon 'Margarita BOP', Arctostaphylos 'Emerald Carpet', and Achillea 'Moonshine' to attract fauna with room between plants for meandering. Salvia elegans and Satureja douglasii bring in scented leaves and Stachys byzantina 'Helene Von Stein' is appealing to touch. Rhamnus alaternus 'John Edwards' and Prostanthera ovalifolia variegata along the fence create hidden pockets to explore. The Acer grisseum's peeling bark engages and as it grows, it will provide shade for the garden explorers.
"We love the fact that our small urban garden reminds us of a hike in nature. It is rustic enough to encourage our young friends to explore the rocks and gravel pit, flowers and water feature creating a love of nature and sparking their imaginations."
—Virginia McKone
" The birds will like the flowers in there – we can celebrate them!"
—Carter (3 years old)
PUMPED UP IN SARATOGA
What to do with a long narrow backyard by a father and his two sons who loved to bicycle?
Why, build a pump track, of course. A pump track is a circuitous route with measured built in berms and rolling mini hills that allow the rider to ride without pedaling. By skillfully using momentum and a "pump" action with the arms the rider is able to pick up speed with quite a workout.
Read more about this and other pump tracks at Lee Likes Bikes.
Click images to enlarge.
Photos courtesy of Cynthia Tanyan.
AN ARCHITECTURAL COLLABORATION IN ECHO PARK
Stephanie's client, architect Barbara Bestor transformed this house from a tarpaper shack into a contemporary architecture showpiece. Stephanie Bartron designed a garden to match, extending the architectural program into the backyard with a large outdoor living/dining room. At the front edge of the property, between the fence and the pergola, lies a secret children's garden with sandbox, climbing rock, swings and vegetable beds.
"Barbara found the vintage fast-food benches and had the swings made. Our landscape contractor had the rock on his truck, removing it from another garden, and she had the great idea to put it in the middle of the garden where it was a favorite climbing toy/horse/magic castle. Behind the chairs is a garden bed and a sandbox, and in the corner below I planted a Coast Live Oak to shade the garden. A mature California Walnut and Heteromeles were limbed up and provide some dappled shade too. The arbor in the front was planted with a mixture of flowering vines, including Clematis, Aristolochia and Thunbergia."
Click images to enlarge.
Photos by Andrew Takeuchi.
A PLAYFUL SLOPE IN OAKLAND
Mix together a sloping front yard and a two-year-old and you get a bright red slide running down a low water-use tropical garden. On a busy corner in Oakland, the two-year-old has a safe place to play, and on the opposite side of the front pathway, the dogs have a place to play also.
FAMILY FARMHOUSE IN CARDIFF
"It's important to understand your ownership pattern because it is an expression of the values that guide your life. The question of what you want to own is actually the question of how you want to live your life." —Marie Kondo
If something in your life does not give you joy; whether that is clothing, accessories, relationships, or your landscape, then it is not worth having clutter your mind. At Falling Waters we take the plunge into what a client really wants and needs within the landscape and we discard the rest: a Kondo methodology.
We used this process with the Oxford Ave project a Farmhouse in Cardiff; the homeowners had a decent amount of space to fill and it was our challenge to design it intentionally. We prioritized what they will be using day-to-day and hugged those elements near the house (spa, fire pit, and BBQ). Then we analyzed what kind of activity their family and friends tend to partake in during their once-a-week to once-a-month hangout that they wanted to host at their home, whether that be a laid back-informal BBQ, sit-down dinner, or playing games. Their personalities and lifestyle choices matched the inclusion of a bocce ball court in their outer yard. Bocce ball will act as a casual activity for the hands to do while the major socializing occurs. This play element is good for all ages and can be designed to add aesthetic value to a yard, unlike trampolines and basketball courts.
Existing elements remained, including pavers leading to the front door, fencing and certain trees and shrubs. But overall we grew the usable space tenfold and maximized the families potential outdoor experiences.
Click images to enlarge.
NATURAL LIVING IN BELMONT
The homeowners loved the natural feel of their property which is on a moderate down sloping lot in Belmont. A large Coast Live Oak at the center of the backyard space provided a beautiful focal point. The main objective for the homeowners was to make the site more useable and safe for their young children to play.
We created a DG path outside the drip line of the oak tree, this serves as a great trike or running circuit, kids love running in circles! Just inside the path we added jumping logs and natural balance beams.
At the bottom of the slope we created a berm planted with native grasses with a slide built in. The kids can slide to the bottom of the hill, then climb the logs back up to the top, and run the circuit all over again!
This family loves the outdoors, and camping. We built a deck at the bottom of the hill which can serve as a nice location for the parents to sit and relax while the kids play and can also act as a flat surface for the family tent.
STAYCATION HAVEN IN SAN CARLOS
The backyard had only 15' deep patio and some artificial turf framed by a 5' high concrete retaining wall. There was an existing very steep and unsafe stairway which let to a large up sloping hill. Our objective was to create a safe and comfortable connection between the two spaces and to make the hill more usable. We terraced the hill into 3 sections. The first for a vegetable and butterfly garden, the second for lawn, hot tub and fire pit and the third terrace includes a playhouse, climbing logs, dry creek bed and a deck which offers a spectacular view of the Bay.
The playhouse was custom built and includes operable windows and lights, the attached slide offers an exit from the playhouse and lands near climbing logs which lead back to the playhouse entrance. A large oak tree hangs over the lawn area, perfect for a tree swing .
EDIBLE FRONT YARD IN SANTA BARBARA
WHIMSICAL FUN IN SANTA CRUZ
This project was part of an overall home renovation. The owners wanted the garden to reflect, and be an extension of, the colorful and highly personalized interior of their home. They wanted an expansive space for entertaining both adults and children. The patio accommodates outdoor dining and relaxing and provides a fun place for their young daughter and her friends to play – the artificial turf spiral wraps around a covered sandbox. Along the back of the property another patio was created next to a creek that runs yearlong.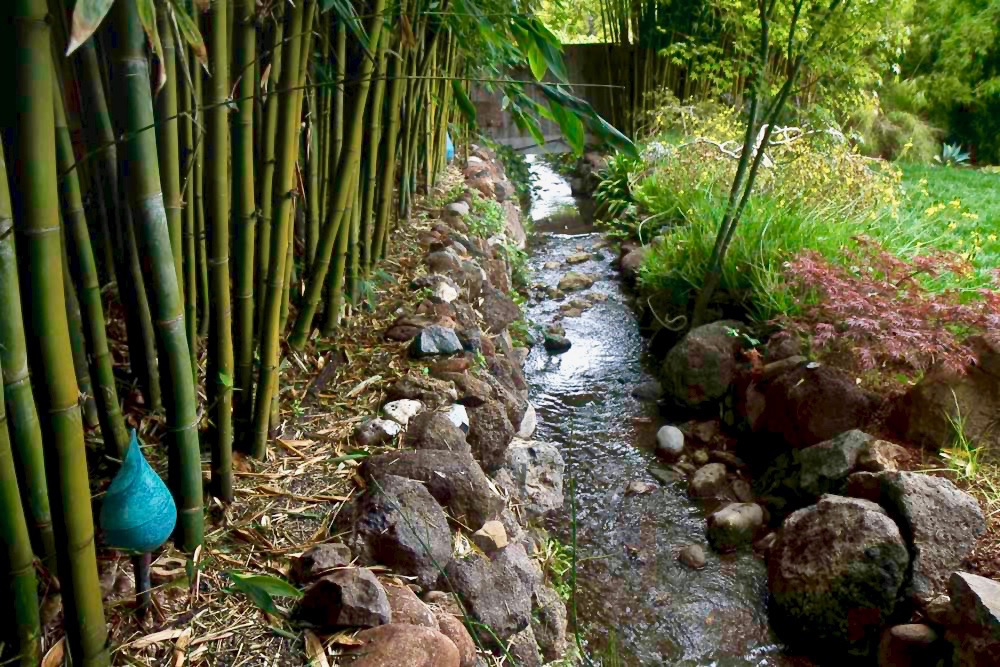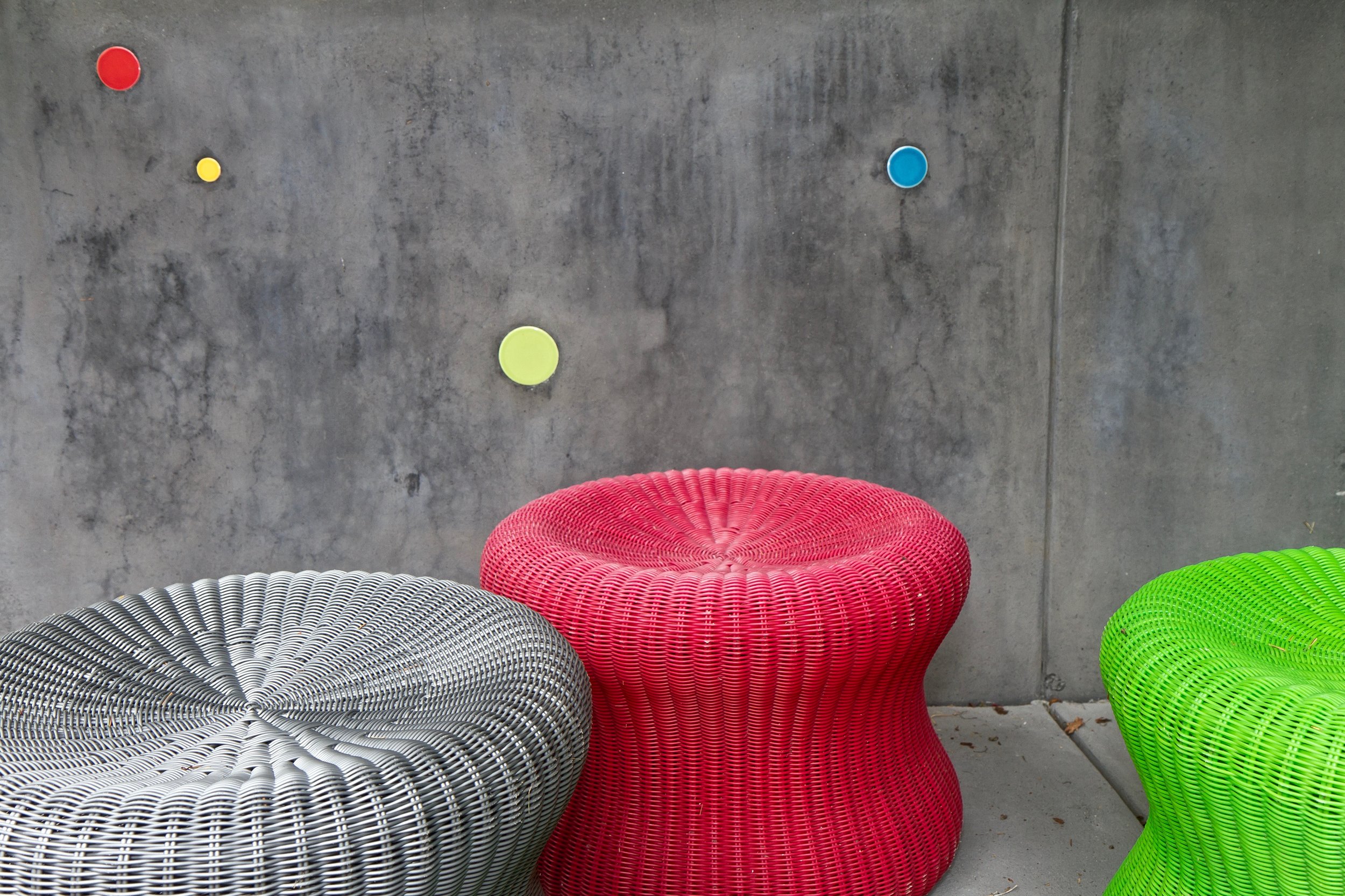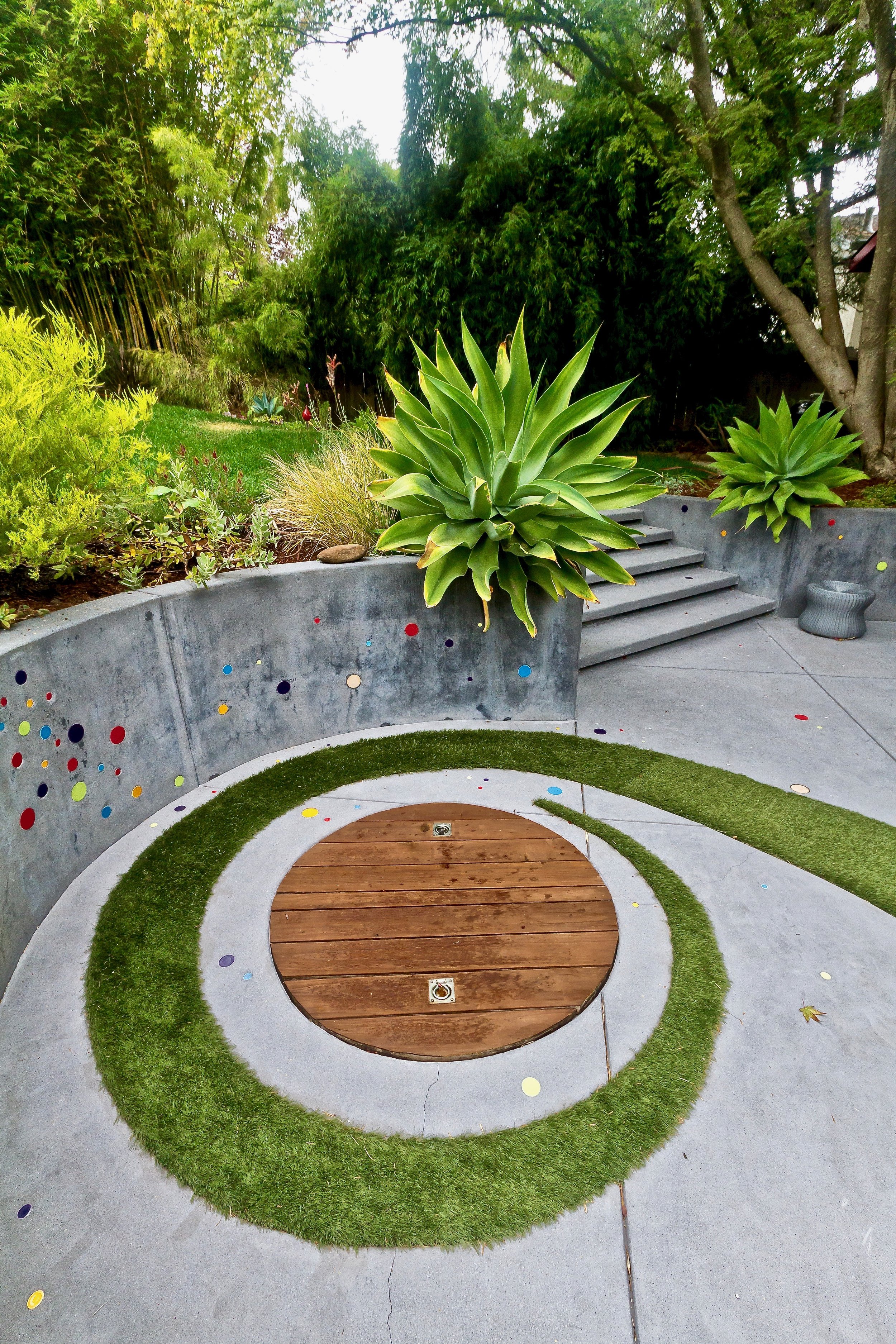 Photos courtesy fo Kathleen Shaeffer.
A PLAYFUL HILLSIDE IN CUPERTINO
The hillside gardens of this property were destroyed during an extensive remodel. Only a lone Redwood at the front of the property and a massive Live Oak on the hillside were saved. The clients wanted a modern look to complement the updated architecture. There is a seat wall and sand box in one of the side yards that can be turned into a patio area after the children are grown. A slide down the hill under the big Oak is a feature on the other side of the house.
As you can imagine, that hillside was quite a challenge! The stair design at the slide area had to be modified after "we" (the crew) ran into a huge Oak root. Mike Hertzer of Modern Landscaping was the contractor, and Carlos Velasquez the brilliant builder of the stairs.
Photos courtesy of Julianne Adams Frizzell, ASLA, FAPLD.
A FAMILY-FRIENDLY GARDEN IN MORAGA
This family friendly garden occupies three levels. The highest level was designed around a wood play structure. Decomposed Granite, with a stabilizer, circles the play mulch, allowing the children a place to ride their pedal cars. A circular Blue Stone Patio is the perfect place for adults to gather and watch over the children.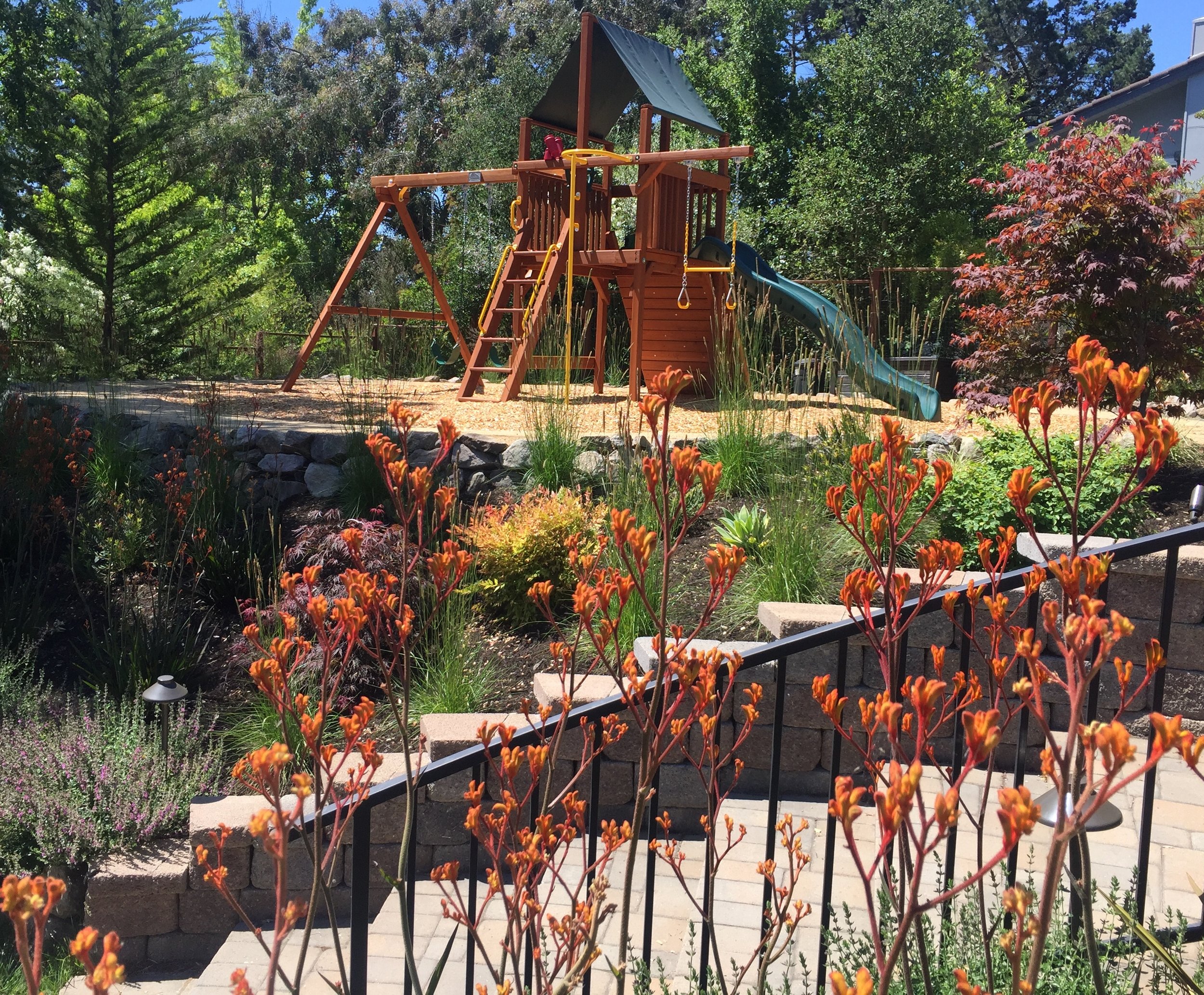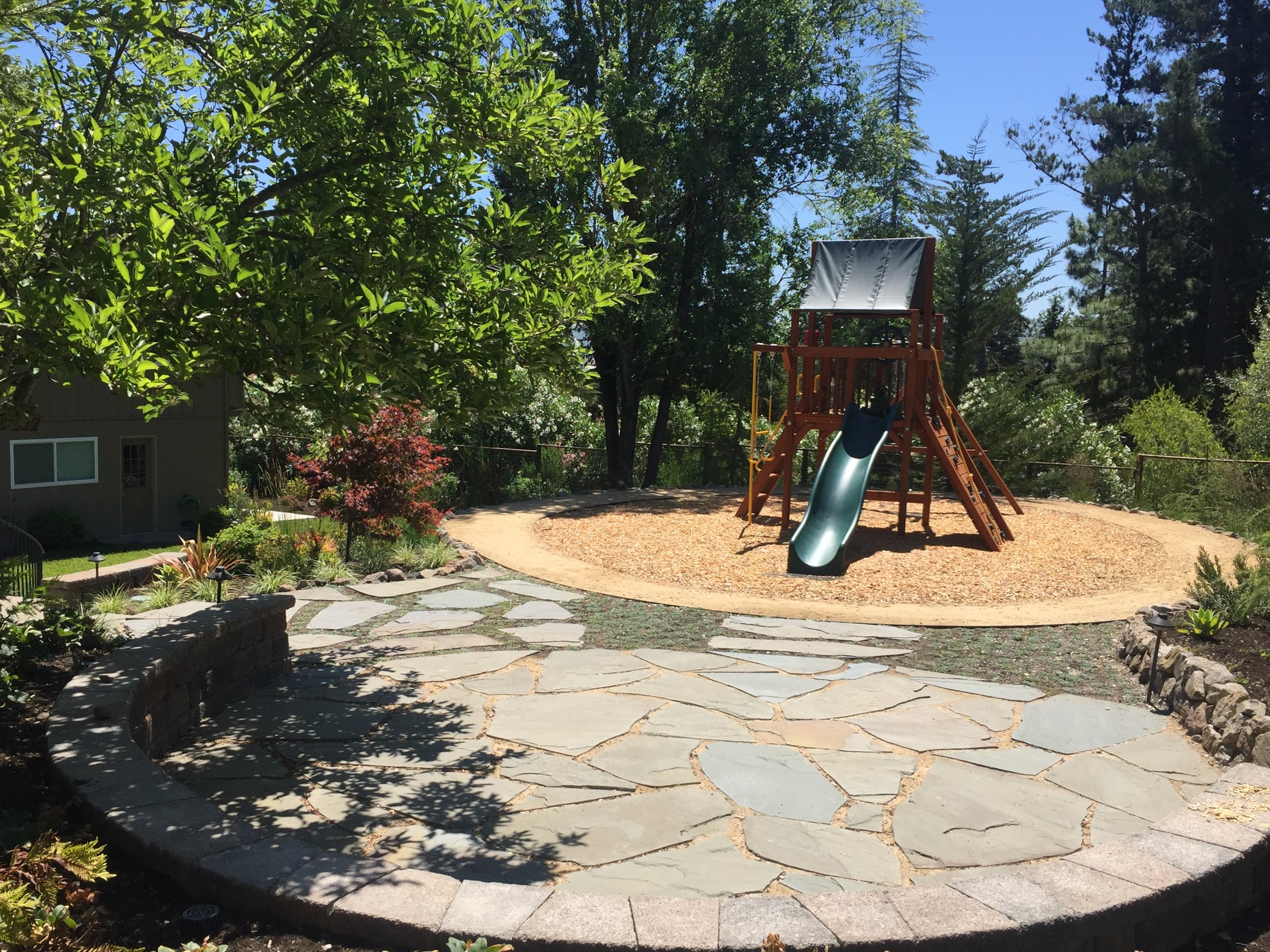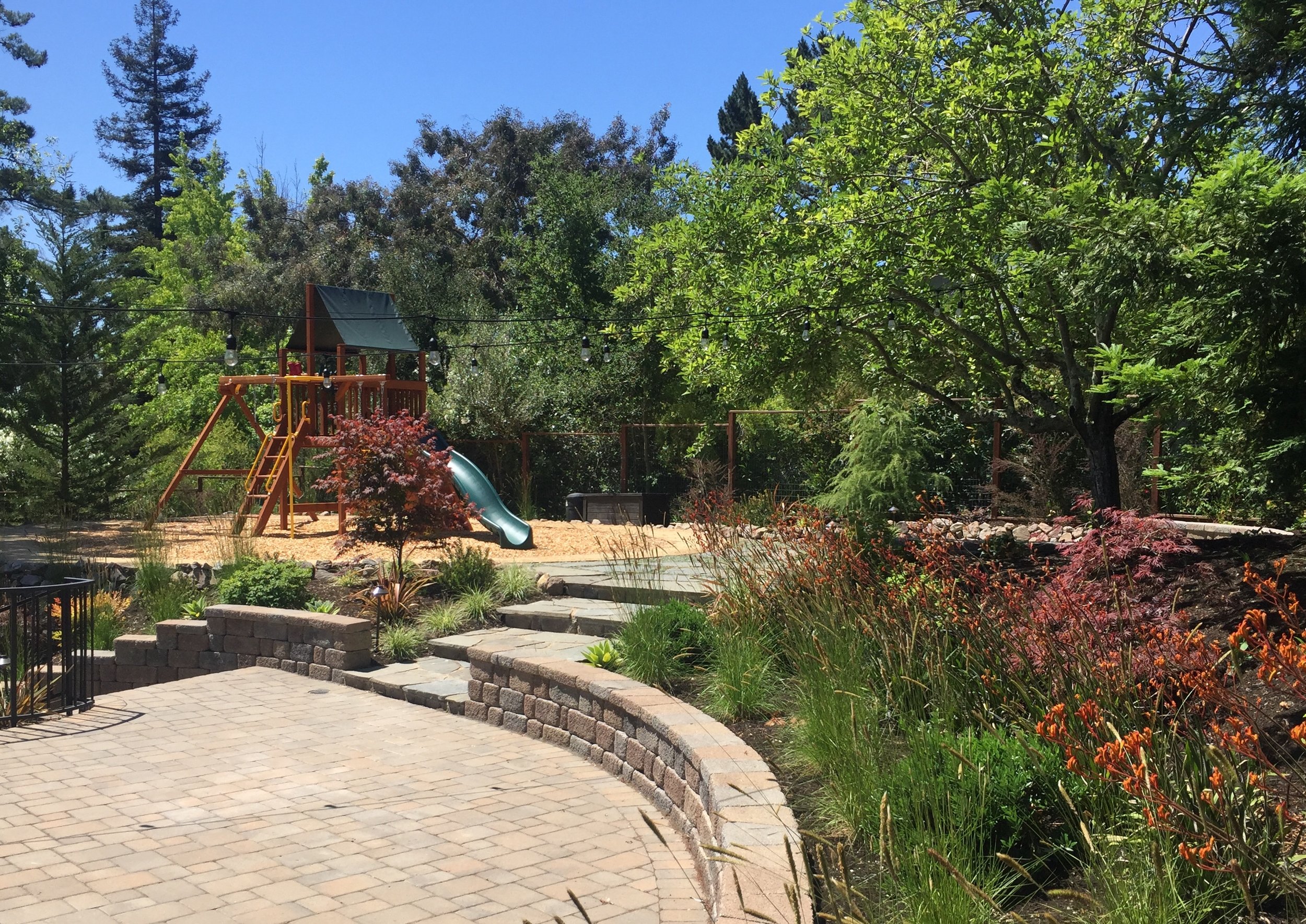 Photos courtesy of Mario Herrada.
CANYON FAMILY PLAYGROUND IN LOS ANGELES
Sited in the canyon and surrounded by giant trees, this shady property had a tendency to stay moist and muddy. Improving the entry and walkway to this contemporary home in the canyon was essential.
The new design called for laying the existing small slate flagstone into larger raised pads of grey-colored concrete for a sound pathway to the front door. They were poured in place with impressions of sycamore leaves. Woodland plantings in green and burgundy hues included oak leaf hydrangea and Japanese maple; and succulents provide year-round beauty.
The struggling backyard needed an updated purpose. The damp clay soil was not conducive to a lawn, and overwatering would be detrimental to a magnificent native oak that reigned along with a water-thirsty coastal redwood. A new deck extending on level of the house was constructed with a built-in horseshoe-shaped seating area as well as a BBQ and bar. This defined a living space. Nearby, a basketball key was installed for games of 21, and handmade wooden swings were suspended from the elegant oak limbs.
Everywhere else, decorative gravel was laid like a carpet under the trees, providing dry footing and a European courtyard feel. The large glazed pots reflected light, as did the silver-toned and glossy-leaved perennials. Seasonal flowering plum trees provide a subtle change of the seasons.