Designing today's gardens
for tomorrow's California.
CONTENTS
Simply scroll down to read the articles.
You may also click on the section titles below.
Letter from the Chapter President
Francesca Corra, APLD
The Designer's Toolbox
TOOLS AND TIPS:
Designing Outdoor Play Spaces for Children by Laura Henry Kukulski
Practicing Playfulness by Annie Potter of Falling Waters Landscape
Edible Gardening with Children by Joan Bolton
Thumbnail Designs: Playful Details
Nicholas Walker—Surfers' Delight
Kathy Oberg—Felled Trees Get a New Life
Patricia St. John, FAPLD—Garden Chess
Margie Grace—Ocean Bluff Bocce
Margie Grace—Whimsical Retreat
Laura Morton, FAPLD—Innovation & English Manor
Mary Fisher, FAPLD—Rack 'Em Up
BOOK REVIEW:
Playborhood reviewed by Bernadette Ballics
PRODUCT REVIEW:
Cacoon reviewed by Shawn Maestretti
PLANT SPOTLIGHT:
Member Highlights
PLAYFUL LANDSCAPES AROUND THE STATE:
1. A Natural Playspace in Albany by Nina Mullen
2. Pumped Up in Saratoga by Cynthia Tanyan
3. An Architectural Collaboration in ______________ by Stephanie Bartron, FAPLD
4. Playful Slope in Oakland by Patricia St John, FAPLD
5. Family Farmhouse in Cardiff by Ryan Prange
6. Natural Living in Belmont by Kristen Rudger, APLD
7. Staycation Haven in San Carlos by Kristen Rudger, APLD
8. Paseo Tranquillo by Margie Grace, APLD
COMMUNITY CONNECTIONS:
"The Nature of Play Experiential Garden at The Los Angeles County Arboretum & Botanic Garden" by Ketti Kupper
Hanna Fenichel Garden Classroom by Anne-Emilie Gold
News from the Districts
What's Happening with APLD Around California
Our Sponsors
How to Make a Good Lighting Job Great
Welcome New Members
Upcoming Events
Contributors
Call For Submissions
TOOLS AND TIPS:
Designing Outdoor Play Spaces for Children
When designing a residential garden for a family with young children, we have amazing opportunities to create space for children to play.
Play space can be integrated seamlessly into any landscape design. Outdoor play for children is not just about large lawns or big expensive play structures. In many places around California, lawns are not a possibility, as well as not advisable, and many people do not have space for large structures. But that is fine! There are so many other ways that children play! A good play space provides room for physical, social, dramatic, cognitive play, and can invite many kinds of spontaneous activity.
It can be hard to know what exactly a child will engage and play with, especially if you have only met them once or twice. You should get some basic information about a child's personality from the parents. Ask questions like: is your child more prone to active play or imaginative play? Do they seek out sensory input, have big energy, or like to create with their hands, or do they seek out quiet spaces for contemplative play?
Aim to create spontaneous, organic play for kids by including natural elements that allow for undirected and open-ended play.
At Falling Waters, we praise all things having to do with the landscape. This extends into our belief that the outdoor experiences of a child's day are vital to their mental, physical, and social growth. Children learn best when all of their senses are activated. Unlike adults, they cannot sit in a two hour lecture given solely by word of mouth. In order to imprint a lesson into a child's mind, information has to be presented to them as something worth remembering. By allowing them to physically engage in the subject matter and personally see and feel it in real life, children will get excited for the lesson and their brain will absorb it more fully. For instance, showing a picture of the photosynthesis process is nothing compared to actually seeing it happen. In order to keep children engaged and constantly growing their breadth of knowledge, their interaction with their natural environment should be a key priority during the day.
EDIBLE GARDENING WITH CHILDREN
School's out and there's no better time to enlist your kids to grow fresh edibles. Many summer crops grow fast and yield bounty that children like to eat. Start your kids playing in the dirt early, and they'll develop an appreciation for home-grown food and healthy habits for life.
If you don't have children, gather your neighbors' kids instead. Or simply vow to rediscover your inner child by taking time to view your garden with wide-eyed wonder, kneeling down to breathe in the scents and to inspect your emerging edibles from a ground-level perspective.
With the popularity of school gardens, some parents may even face a bit of role reversal, with their kids being the ones pestering them to plant veggies. Regardless of the youngsters you round up, don't be intimidated if they seem to have more gardening experience than you do. The following is a quick-start guide, no matter who's just beginning to dig in the dirt.
Thumbnail Designs: Artful Details
FELLED TREES GET A NEW LIFE
INNOVATION AND ENGLISH MANOR
RACK 'EM UP
I originally designed this back yard to be a flexible space for the family of four. The gravel area was big enough to be a fire pit area or perhaps hold a ping pong table. A few years after installation, the homeowner, Joanna Bianchi, decided on an outdoor pool table. This was an instant hit with their two teenage boys and all their friends.
I'm a big fan of building real-life community, and believe landscape designers can do so even while designing single family residential projects. This book shows one approach to doing just that.
The book, written by a father of three children, begins with a manifesto, a vision of a neighborhood block that allows kids to shape their own play time: 'I want my kids to play outside with other neighborhood kids every day…' I want them to create their own games and rules… I want them to make lasting physical artifacts that show the world that this is their place…
The author posits that, setting aside parenting changes over the generations, free play for kids has decreased because neighborhoods are boring compared to the alternatives (internet, video games, structured activities).
The book includes detailed case studies of playborhoods throughout the nation, including several in the California cities of Menlo Park, Palo Alto and Davis.
Next, the author reviews the steps to creating a playborhood:
Identify a potential playborhood
The author offers a checklist to evaluate a block for suitability as a potential playborhood. You need kids, calm streets, and walkability to start.
Create a neighborhood hangout
To entice his own children and those on the block to play together, the author has designed his front yard to be a fun gathering place for kids and adults. Features include: a whiteboard, picnic table with storage benches (for meals, storytelling, art projects), media system, concrete driveway with a neighborhood map mural, neighborhood mosaics, play river, sandbox and basketball hoop. The space is aesthetically pleasing, and used by all ages. He started with the front yard, because other parents were more comfortable having their children play where they could be seen. After the neighborhood social bonds began to form, he added fun elements to the backyard: in-ground trampoline, playhouse (with drywall art space, porch swing, climbing toeholds, skylight, sound system) and slumber party accessories, swing set with swappable accessories.
Keep kids' lives simple
Help the youngest kids have a rich reality-based life – plenty to touch, smell, and see outside, right outside the front door. Offer them lots of opportunities to learn how to get along with peers, problem solve, and explore. Teach kids to value their home and neighborhood as the center of their lives.
Make a village
Organize regular neighborhood free play days, plant a community garden, have regular community dinners, run a neighborhood summer camp, organize block parties, hold family social events with neighbors.
Encourage self-reliance
Teach kids how to play pickup sports games, help kids establish a nearby nature hangout, encourage nearby independent (safe) roaming.
Let them roam with cell phones
As they get older, kids can roam greater distances, expanding their neighborhood. Trust them to do so safely, by teaching them how to do so.
These are the ingredients for contributing to a playborhood cultural movement.
While we are on the topic of children in the landscape…
Here are a few books you may find interesting. Click on the cover for details.
PRODUCT REVIEW:
Metamorphosis in the Garden
In 2015 I visited the Chelsea Flower Show for the first time and discovered the Cacoon hammock. I have been waiting for the day I got to purchase one and during our 2019 visit, my wish came true. Now that we own a house with a large Coast Live Oak tree, there is a place for this wonderfully playful element in our garden.
This perfectly executed line of outdoor furniture was inspired Weaver Birds and their tiny hanging nests in Mexico. The designs combine the beauty of steam-bent wood with tensile fabric technology, embracing the traditions of boat building, sail-making and rope work, presented with a contemporary twist.
I purchased the Domo for its spacious enclosure so we could enjoy father-son time, and of course Papa and Daddy time, while being at one with nature. We look forward to backyard camping, napping, reading time and much more. Once the neighborhood children find out about this it will be non-stop joy.
Shawn Maestretti Garden Architecture is officially an affiliate of Cacoon. See all that there is to bring play and relaxation into your garden spaces. Prepare yourself for transformation and order yours today by clicking their logo below. Use promo code: cacoon.
PLaYFUL Landscapes around the State
Click HERE to view this article in full.
A NATURAL PLAYSPACE IN ALBANY by Nina Mullen
When Virginia and Tom McKone first met with us to design a new front and back landscape after a major expansion of their small Albany home, it was clear that creating a place for exploration and play for their young friends who visit regularly was a key element. The front already had a bench built into the retaining wall under a lemon tree to welcome passersby to sit a moment or pick a lemon to enjoy. The back was a slope of dirt and weeds above a new dining patio calling for transformation.
PUMPED UP IN SARATOGA by Cynthia Tanyan
What to do with a long narrow backyard by a father and his two sons who loved to bicycle?
Why build a pump track of course. A pump track is a circuitous route with measured built in berms and rolling mini hills that allow the rider to ride without pedaling. By skillfully using momentum and a "pump" action with the arms the rider is able to pick up speed with quite a workout.
AN ARCHITECTURAL COLLABORATION IN______ by Stephanie Bartron, FAPLD
Stephanie's client, architect Barbara Bestor transformed this house from a tarpaper shack into a contemporary architecture showpiece. Stephanie Bartron designed a garden to match, extending the architectural program into the backyard with a large outdoor living/dining room. At the front edge of the property, between the fence and the pergola, lies a secret children's garden with sandbox, climbing rock, swings and vegetable beds.
A PLAYFUL SLOPE IN OAKLAND by Patricia St. John
Mix together a sloping front yard and a two-year-old and you get a bright red slide running down a low water-use tropical garden. On a busy corner in Oakland, the two-year-old has a safe place to play, and on the opposite side of the front pathway, the dogs have a place to play also.
FAMILY FARMHOUSE IN CARDIFF by Ryan Prange
If something in your life does not give you joy; whether that is clothing, accessories, relationships, or your landscape, then it is not worth having clutter your mind. At Falling Waters we take the plunge into what a client really wants and needs within the landscape and we discard the rest: a Kondo methodology.
We used this process with the Oxford Ave project a Farmhouse in Cardiff; the homeowners had a decent amount of space to fill and it was our challenge to design it intentionally.
NATURAL LIVING IN BELMONT by Kristen Rudger, APLD
The homeowners loved the natural feel of their property which is on a moderate down sloping lot in Belmont. A large Coast Live Oak at the center of the backyard space provided a beautiful focal point. The main objective for the homeowners was to make the site more useable and safe for their young children to play.
STAYCATION HAVEN IN SAN CARLOS by Kristen Rudger, APLD
The backyard had only 15' deep patio and some artificial turf framed by a 5' high concrete retaining wall. There was an existing very steep and unsafe stairway which let to a large up sloping hill. Our objective was to create a safe and comfortable connection between the two spaces and to make the hill more usable. We terraced the hill into 3 sections. The first for a vegetable and butterfly garden, the second for lawn, hot tub and fire pit and the third terrace includes a playhouse, climbing logs, dry creek bed and a deck which offers a spectacular view of the Bay.
PASEO TRANQUILO by Margie Grace
The backyard had only 15' deep patio and some artificial turf framed by a 5' high concrete retaining wall. There was an existing very steep and unsafe stairway which let to a large up sloping hill. Our objective was to create a safe and comfortable connection between the two spaces and to make the hill more usable. We terraced the hill into 3 sections. The first for a vegetable and butterfly garden, the second for lawn, hot tub and fire pit and the third terrace includes a playhouse, climbing logs, dry creek bed and a deck which offers a spectacular view of the Bay.
WHIMSICAL FUN IN SANTA CRUZ by Kathleen Shaeffer
Life is a game, or at least it could be in your backyard. Set it up for slumber parties, outdoor movies, and general fun. Not only will the neighborhood kids like it, but the adults will too. Anne Bruns Richardson and her 7-year-old daughter, Eloise, use it as a haven for storytelling vivid with color.
Landscape designer Kathleen Shaeffer helped create this whimsical backyard in Santa Cruz, California, with a bright blue fence, multicolored polka-dot ceramic tiles, and plenty of room to romp. "I love that the backyard has an area for everything from playing to grilling and relaxing," says Bruns Richardson.
This experiential garden was created with a sense of enchantment for people of all ages at the Los Angeles County Arboretum in April 2007. In this 30'x30' art installation, visitors moved through ten distinctive interactive features designed to bring greater awareness in one's own life journey. People sat at the "Table of Transition" to write their notes for "The Wall of Wishes". Here are a few wishes people put on the wall: "I wish no one got sick", "I wish that my tortoise will stay healthy", "I wish to be creative every day", "I wish to live with cancer for 15 years okay", "I wish for more love in everyone's hearts", "I wish for personal calmness", "I wish the world was like this garden".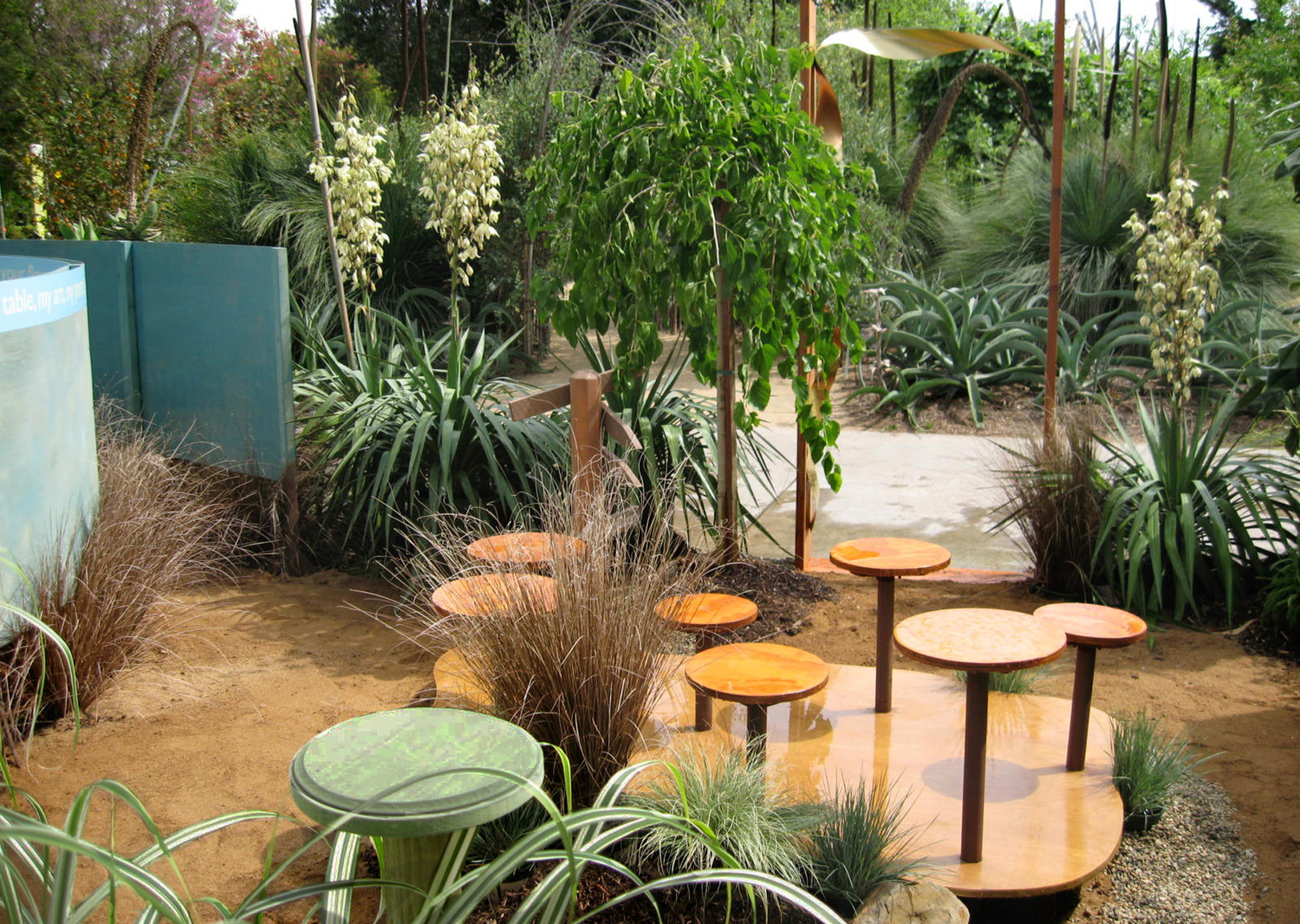 HANNA FENICHEL GARDEN CLASSROOM
This Garden Classroom is serenely shaded by a bountiful pepper tree and constructed of repurposed building materials. The area is primarily focused on providing children with a natural environment for collaborative exploration of nature. Abundant raw materials (such as stones, sticks and pinecones), along with other loose parts and compostables are examples of the organic composition that makes the Garden Classroom such a special place for exploration and discovery. Here, children are encouraged to work together, imploring their imaginations to discover the world's physical elements. Examples of discovery include children working in the mud kitchen, maintaining the raised garden beds, bird and lizard watching, examining insects through microscopes, and much more. Our explorations are deepened by plenty of books and music.
Anne-Emilee Gold, in collaboration with Island Construction. designed this playground based on The Carnival of the Animals: a musical suite by the French Romantic composer Camille Saint-Saëns. Play elements refer to different musical movements of the suite such as "The Elephant", "Tortoises", or "The Cuckoo's Nest".
Click images to enlarge.
News and Events from the APLD Bay Area District
A roundtable discussion about the challenges of designing, installing and maintaining plantings in those narrow spaces between sidewalks and streets.
Tuesday, April 9, 2019 from 4-6pm
at the Lafayette Veterans Memorial Building
More Info Here
Garden designer and APLD member John Black opens up his home garden and discusses his personal landscape journey.
Wednesday, April 24, 2019 from 3-5pm
at 2140 Bowdoin Street, Palo Alto, CA
More Info Here
APLD Bay Area Speaker Series
Learn about the latest tax changes, accounting and retirement planning for self-employed landscape designers with CPA David Harlow. 1.5 APLD CEUs.
Tuesday, May 14 from 4-6pm
at Veteran's Memorial Building, Lafayette
More Info Here
APLD Bay Area Speaker Series
Irrigation expert Andrew Bolt of Architectural Solutions in Modesto will walk us through the latest theories and methods for efficient irrigation – what's really working and what's not. 1.5 APLD CEUs.
Wednesday, May 22 from 3-5pm
at Gamble Garden, Palo Alto
More Info Here
APLD Bay Area Designer Spotlight
KELLY KILPATRICK & RAMIE ALLARD
Two accomplished APLD members, who are doing exciting and innovative work, share their latest projects, career, history, and process.
Tuesday, June 11, 2019 from 4-6pm
at the Lafayette Veterans Memorial Building
More Info Here
Herb expert Rose Loveall from Morningsun Herb Farm will speak about some of the best herbs to use in landscape design. 1.5 APLD CEUs.
Wednesday, June26 from 3-5pm
at Gamble Garden, Palo Alto
More Info Here
News & Events from the Sacramento District
UC DAVIS SPRING PLANT TRIALS AND ARBORETUM TOUR
Tuesday, April 30, 2019
Click images to zoom.
To pre-register for the event, click here.
APLD sacramento DISTRICT NEWS:
The Sacramento District began the year with activities to help members network with fellow designers and to gain knowledge to strengthen their professional skills.
In February, we hosted our popular Designer Dirt meet-up, which was well attended by our members as well as students and faculty from a local community college. We look forward to more opportunities to attract students to our events. There is much interest in a mentoring program and seeing it implemented.
Our March 2nd event with Shawn Maestretti, held at Village Homes in Davis, was a great success with a packed house, even on a rainy day! This ecologically-planned development built in the 1970s was the perfect venue for Shawn's climate-focused discussion. Devil Mountain Nursery brought CA native plants which went home with some lucky attendees. Our own Cheryl Buckwalter gave an update to the group on our Sustainability and Advocacy efforts. Following Shawn's talk, we were given a wonderful tour of the development where we had a chance to see their bioswales in action, as well as community gardens, orchards, vineyards, and how they best use natural resources. What an inspiring day!
Coming up at the end of April, APLD Sacramento will join in on the UC Spring Irrigation Trials in Davis, followed by an Arboretum tour. This looks to be a great event. We hope to see you there! Plans are in the works to host another Designer Dirt…stay tuned.
We are excited that our small district is growing—we've already added a few new members this year. We look forward to another great year in the Sacramento District!
News and Events from the
APLD Greater Los Angeles Area District
APLD GLA Special Event
4th Annual APLD Greater Los Angeles Garden Tour:
S.E.E! Succulents, Edibles, Ethical Garden practices
This year's tour features gardens 7 gardens in the first session 9am-1pm in West Los Angeles and Santa Monica some having received rebates for pervious driveway, turf removal or rain gardens. The afternoon garden is a large estate that received an American Society of Landscape Architects 2018 Quality of Life Design Merit Award. At this final garden, short walking presentations by the design team will start every 30 minutes, Topics to be included; Rain water harvesting; supporting habitat; native plants communities in the garden, succulents from around the world and irrigating a complex garden with both potable and rain water.
Sunday, April 14, 2019 9AM-4:30PM
In Santa Monica and Brentwood Area
More Info Here
save the date:
BIODIVERSITY REPORT:
update from the Bureau of Sanitation in Los Angeles
June 11,2019 from 5-7pm
at the Hyperion Water Treatment Facility
Join us to participate in the discussion going forward on policy, code development, building restrictions, Biodiversity repair etc on how we resolve and correct issues related to the decline of our environment within the California Floristic Providence. Learn about things we can do now in the landscapes we are creating today to help our environment.
Speakers: Mas Dojiri PhD(assistant general manager at LA Sanitation) and Isaac Brown (doctoral student in the Institute for Environment and Sustainability at UCLA; project coordinator at LA Sanitation)
More info here.
save the date:
The Second Annual APLD Greater LA Designer Plant Fair
September 14, 2019 at the LA Arboretum
Stay tuned for more info.
News from the APLD San Diego District
Spring 2019 finds the San Diego District up to its eyeballs in a Super Bloom! Many of our members have trekked out to the desert (and other areas closer in) for the wildflower show this year, and we have been noticing an uptick of interest in California native plant species. Our great rain patterns this winter have really helped the cause!
The founder of CalScape recently hosted a CA Native garden tour on March 28th. The property that was featured on the tour is on two acres in our local North County and completely planted with endemic CA native plant species.
Upcoming member events include a members-only forum on graphics and presentation for landscape designers on April 25th, with location TBD. We are also participating in a local East County garden tour on April 27th by offering our "30 for 30" design consultations.
If we can squeeze this in, we hope to be at San Diego's 30th annual EarthFair celebration on April 28th hosting an information booth. May 23rd will feature a members-only tour of a local healing garden, and up-to-date information will be posted on the APLD calendar for all these events as soon as possible.
Lastly, many members here will be traveling north to Greater Los Angeles' S.E.E. Garden Tour on April 13th. We hope to see GLA (and other District) members along the tour, and welcome this opportunity to talk shop in the beautiful gardens!
APLD California Chapter
Sponsors
Through sponsorship of APLD California Chapter, these industry leaders declare their support for best practices, educational programs and events, and the highest standards in landscape design. From veteran materials suppliers to producers of cutting-edge landscape products, these companies have committed to connecting with professional landscape designers and our clients.
SPONSOR TOOLS AND TIPS:
How to make a good lighting job great:
Observations from a CLCA beautification lighting judge
by Bruce Dennis of Lightcraft Outdoor, an APLD CA Bronze Sponsor
Recently, I had the pleasure of being a residential landscape lighting judge for the California Landscape Contractors Association (CLCA) 61st Annual Beautification Awards. There were 12 competing landscape contractors from the Orange County Chapter who submitted their jobs for various awards. The locations ranged from upper end Newport Beach to medium level Cypress, Calif. The lighting awards were graded on several factors and separated by the number of fixtures used on the project (under 35, 36-80 and 81 or more fixtures). The awards ranged from Overall Brilliance, 1st and 2nd place.
The criteria were ranked on the following:
•Effects- Dramatic, Combined and Special
•Installation- Fixture Selection, Proper Use of Beam Spread, Voltage Drop, Mountings, Color Rendition, Controllers and Safety.
The reviews lasted two full nights from 6:30 pm to 12:00 am. The CLCA provided a van, a driver, a navigator and a photographer for two lighting judges. The judges were (myself) Bruce Dennis from Lightcraft Outdoor and David Oborn from FX Luminaire. We reviewed 6 projects per night. It was a challenge as the homeowners not only needed to give their permission but needed to be home and allow access to the outdoor space. The additional challenge was that many of the homes were in gated and private communities so the guard gates had to be aware of our intention, especially toward the end of the night. Luckily, there were no dogs or other pets to worry about. At the end of the night the votes were tallied based upon the factors listed above. Interestingly enough, both David and I had very similar comments per project and were mostly in sync on what was good, what could have been better and what could have been considered poor lighting choices.
Positive notes from the two nights:
•Most of the jobs had good "balance" where the property had good lighting throughout the yard.
•Most of the jobs had appropriate light levels and were not overly lit and primarily used warm kelvin colors (2700k and 3000k).
•Most of the jobs hid the cable and the transformers were out of sight.
•Most of the jobs used brass and high quality materials.
•Most of the jobs used high quality replace-able/service-able drop in LED lamps.
•Some of the contractors had well thought out wiring systems (pre wired) where individual, large decorative pots were nicely lit that were sitting on exquisite flooring.
Improvement notes from the two nights:
•Glare was an issue on most of the projects. This could have easily been resolved with a night review with simple adjustments and location placement.
•Most of the stairs were under lit. This is a potential hazard.
•Many of the properties had "voids" of light. This is unpleasant to the eye when viewing at certain perspectives.
•Many of the "voids" were due to unlit trees that fell on the other side of the property or fence line. It would have looked much better to incorporate the trees and specimens that can be seen as part of a balanced lighting plan, even though they were not directly on the property. Other "voids" were simply due to not enough fixtures.
•Most of the jobs used up lights, but many did not incorporate enough "small wash lights" for the shrubs and bushes. Wash lights provide soft and great low level light and are ideal for small specimens and short pony walls. Wash lights are also great "fillers" to balance the lighting pallet.
•The light levels could have been more creative with less wattage (lumens) in front, medium light levels in the middle and more wattage (lumens) in the back of the property.
In conclusion, I was excited to see how lighting has become such an integral part of professional landscape projects. Landscape lighting provides beauty and enhances the overall landscape plan. Lighting also provides safety and security which is incredibly important. The projects that we reviewed all had high levels of owner satisfaction, which in itself is a great success. We all know that "landscape lighting can be more of an "art than a science". It is critical for the contractor to review the lighting at all stages of the installation, especially at night. Finally, the difference between a good lighting job and a great lighting job can be just a matter of inches (placement, direction and shielding).
For more information please contact brucedennis@sbcglobal.net
Bay Scenery specializes in delivering high-quality landscape construction services in and around Silicon Valley. Through the acquisition of well-known companies such as Harris Landscaping Company, we have cultivated a reputation for excellence in landscape construction for over 30 years.
OUR GOLD SPONSORS:
Simply click on a logo below to visit the website of one of our sponsors.