Designing Today's Gardens for Tomorrow's California
Happy Spring, Everyone!
This is a time of incredible transformation in the garden. Even for us in California, where Aloes, Lavanadulas, Salvias and Helleborus have carried us through the winter, our gardens are beginning to explode with color.
Spring is also an incredibly busy time with most of the garden shows and tours packed into a few short weeks. I look forward to seeing many of you on April 7 and 8 for the SoCal Regional event, "A River Runs Through It." Greater LA and San Diego Districts have been working so hard to make this a spectacular event and I am beyond excited by the number of designers coming in from all the Districts.
So, I know . . . we are all busy, right?
I am still going to ask you to do more, in keeping with my year's theme, "Step Up Your Game." I would like to encourage everyone to get out there during this peak time of busy-ness and take pictures of your gardens. Make a list of all the gardens you have designed over the past five years or so. I'll bet you will even think of some beautiful gardens that have fallen off your radar for one reason or another. Consider hiring a professional photographer. There are some APLD members who are accomplished garden photographers. Lighting is usually best early or late in the day, so you can do this and not neglect your ongoing work. While you are at it, make sure you get some good pictures of yourself, both close-ups and long shots in the gardens. You can use these photographs for your website, on Instagram, Facebook posts and blogs, and for the APLD design contest and APLD certification.
Cheers!
Francesca Corra, APLD
APLD California Chapter President
CONTENTS
Simply scroll down to read the articles.
You may also click on the section titles below.
APLD Leadership Symposium: Looking Back, Moving Forward!
APLD at Modernism Week
APLD Sacramento District Celebrates a Watershed Win
APLD California Chapter 2018 Sponsors
Contributors to Spring 2018 Edition
Letter from the Chapter President
HOT OFF THE PRESS: A New APLD Book
A RIVER RUNS THROUGH IT: A New Landscape Paradigm
APLD-CA MWELO 2020 Working Group
PLANT SPOTLIGHT: Grevillea 'Austraflora Fanfare'
BOOK REVIEW: Eating on the Wild Side, by Jo Robinson
DESIGNER PROFILE: Richard Hayden
APLD AUTHORS: Nan Sterman's New Book
HOT OFF THE PRESS:
A New APLD-CA Book
APLD California Chapter announces the release of California Watershed Approach to Landscape Design, a beautiful 44-page, full-color publication featuring APLD members' garden photos from across the state.
It was all made possible by the incredible talents of Pamela Berstler and Alex Stevens of Green Gardens Group (G3) – an APLD-CA gold sponsor – and generous funding from the California Water Efficiency Partnership and the Surfrider Foundation.
The booklet will be debuted at the "A River Runs Through It" seminar (see below) and later will be made available to all APLD-CA members.
A 2-Day Seminar + Garden Tour Event
Presented by the APLD Greater LA & San Diego Districts
Expand your thinking on native plants and take a new look at the designed environment as well as the role we play as agents of change, stewards of the environment, and trustees of our personal spaces, our communities, and beyond.
Day 1: Speaker Forum
Saturday, April 7th, 9:30am - 4:30pm
Descanso Gardens,1418 Descanso Drive, La Cañada Flintridge, CA.
THOMAS RAINER, landscape architect, teacher, and author of Planting in a Post Wild World, will show us practical techniques for a more layered, intermingled approach that allows plant dynamics to happen in an aesthetic framework. Thomas is a horticultural futurist, fascinated by the intersection of wild plants and human culture.
BENJAMIN VOGT, author and activist, argues in his book The New Garden Ethic that our health and well-being depend on a strong connection with the natural world, and specifically on the original landscapes of the places where we live.
PAMELA BERSTLER, founder of Green Gardens Group (G3), is an educator and creator of the legendary Soil Summit. Her talk, Watershed Approach Landscapes, Make it Rain! will demonstrate through management of the Green Water Zone, how we can create a more beautiful and livable environment that ensures we have sufficient water resources to maintain our landscapes for generations to come.
ROSALIND CREASY, a pioneer in the field of edible landscaping and award-winning author of 18 books on gardening, will speak on Edible Landscaping—The New American Garden. She'll address the basic principles of edible design and the A-Z of her recommended beautiful edible plants.
FRANK McDONOUGH is a writer, botanist, lecturer, photographer, and a botanical information consultant for The Los Angeles County Arboretum & Botanic Garden. He will speak on Trees That Thrive and how to maintain our urban forest. The drought in Southern California is causing us the rethink the use of trees in the urban and suburban landscape. Many of the trees currently in use are not only unsustainable but a cause for health problems as well. Frank looks at the current and future alternatives that may allow us to still have an urban forest in a climate that seems inhospitable to it.
Day 1: Evening Soirée
Saturday, April 7th, 6:00–8:00pm
Cap off the day with small bites and libations in a beautiful private garden designed by Bernard Trainor.
Day 2: The 3rd Annual APLD Greater LA Garden Tour
Sunday, April 8th, 9:30am - 4:30pm
From the San Fernando Valley to Pasadena.
Garden #1: Sunny Curb Appeal
Designed by Marilee Kuhlmann, Urban Water Group
This garden is the transformation from lawn to beautiful raised planting areas, dry stream bed and attractive entry. Sustainable / Watershed Features: Rain garden with downspout redirect; climate-appropriate plants.
Garden #2: Woodland Shade Garden
Designed by Johanna Woollcott, Wild Gardens LA
This garden artfully weaves a dry stream bed and sustainable plantings under large mature trees. Sustainable / Watershed Features: Two dry stream beds to infiltrate water from the roof; certified wildlife habitat; removal of impermeable surfaces.
Garden #3: Front Yard Habitat
Designed by Jacky Surber, Urbafloria
This garden employs a lush, but not thirsty, planting scheme and water feature to create an inviting respite for visitors of all species. Sustainable / Watershed Features: Climate-appropriate plants; habitat for many species; berms and swales to keep rainwater on site.
Garden #4: Blue Bayou
Designed by Laura Morton, APLD, Laura Morton Design
An old patchy turf lawn has been transformed into a stunning entertaining space surrounded by a meadow. Sustainable / Watershed Features: Redirection of rainwater from hardscape and roof to landscape areas; planting of native and nectar-rich plants; soil building with compost and compost tea.
Garden #5: Formal Rain Garden
Designed by Stephanie Bartron, SB Garden Design
This design repurposed scores of existing palm trees to build berms for sustainable plantings surrounding a formal rain garden. Sustainable / Watershed Features: Rainwater harvesting; hugelkultur (composting in place); California native plants ; efficient dripline irrigation; low-water/low-maintenance UC Verde Buffalo Grass lawn in back; organic soil maintenance (compost tea & mulch); permeable gravel walkways; all soil kept on site.
Garden #6: Native Splendor Under Oaks
Designed by Julie Deamer, Yard Queen
An attractive entry solution with rain garden and native plantings complementing the home and existing coast live oaks. Sustainable / Watershed Features: Rain from rooftop diverts into deep river rock–filled basin; permeable pathways; native 'dry shade' plants under coast live oaks.
Garden #7: Neighborhood Inspiration
Designed by Ketti Kupper, Conscious Living Landscapes
This artfully contoured garden highlights a beautiful dry riverbed and textural plantings.
Day 2: reception
Sunday, April 8th, 4:00–6:00pm
Reception and refreshments at garden #7!
APLD-CA MWELO 2020 Working Group
Your fellow APLD members in California are at work preparing for the release of a new draft of the California Model Water Efficient Landscape Ordinance. Chapter and District leaders have convened an MWELO 2020 working group to follow and review the submissions of the Landscape Stakeholder Advisory Group (LSAG), which may be incorporated into the new draft.
The LSAG, a volunteer group of local agency officials, landscape professionals, irrigation efficiency experts and suppliers, and environmental organizations, has worked diligently over the last year. Members met regularly to examine and propose clarifications, improvements, and relevance of the current MWELO, which was adopted in 2009, and revised in 2015. This year begins the next phase of regular MWELO updates, in alignment with the CalGreen update cycle.
The APLD-CA working group convened for the first time on March 8, with leaders from each of our four Districts, including Chapter and District advocacy and sustainability chairs. Their goal is to consolidate the voluminous LSAG commentary and identify proposals that APLD-CA can support, those we have questions about, and those that pose concerns.
This ongoing work will result in a comment letter on the first draft of the new MWELO. The working group will seek endorsement from the Chapter and District boards and the general membership. Watch for our next update and follow the second meeting of the MWELO 2020 APLD-CA Working Group.
If you wish to join in this process, please review the participation criteria. Members of the working group will attend up to three remaining working group conference calls (about 2 hours each), and spend approximately ten hours reviewing and contributing in writing to APLD-CA comments on the draft MWELO. We expect release of the draft MWELO within the next several months. Contact your local sustainability or advocacy chair by email. See the APLD-CA District contact pages at www.apldca.org to find your Chapter and District contacts, or email our Chapter advocacy chair, Amelia B. Lima, APLD, at advocacy@apldca.org.
Additional opportunities to participate include a chance to sign on to the official APLD-CA comment letter, as well as informal, in-person meetings at the District level, for review of the proposed changes to the ordinance. Let's ensure that the voice of APLD-CA is be effective in making the model ordinance a meaningful and practical guideline for water-efficient landscapes throughout the state.
For background on the current version of the California Model Water Efficient Landscape Ordinance, visit the Department of Water Resources (DWR) website, CLICK HERE.
by Amelia Lima, APLD, and Maureen Decombe,
APLD California Advocacy Committee
PLANT SPOTLIGHT:
Grevillea 'Austraflora Fanfare'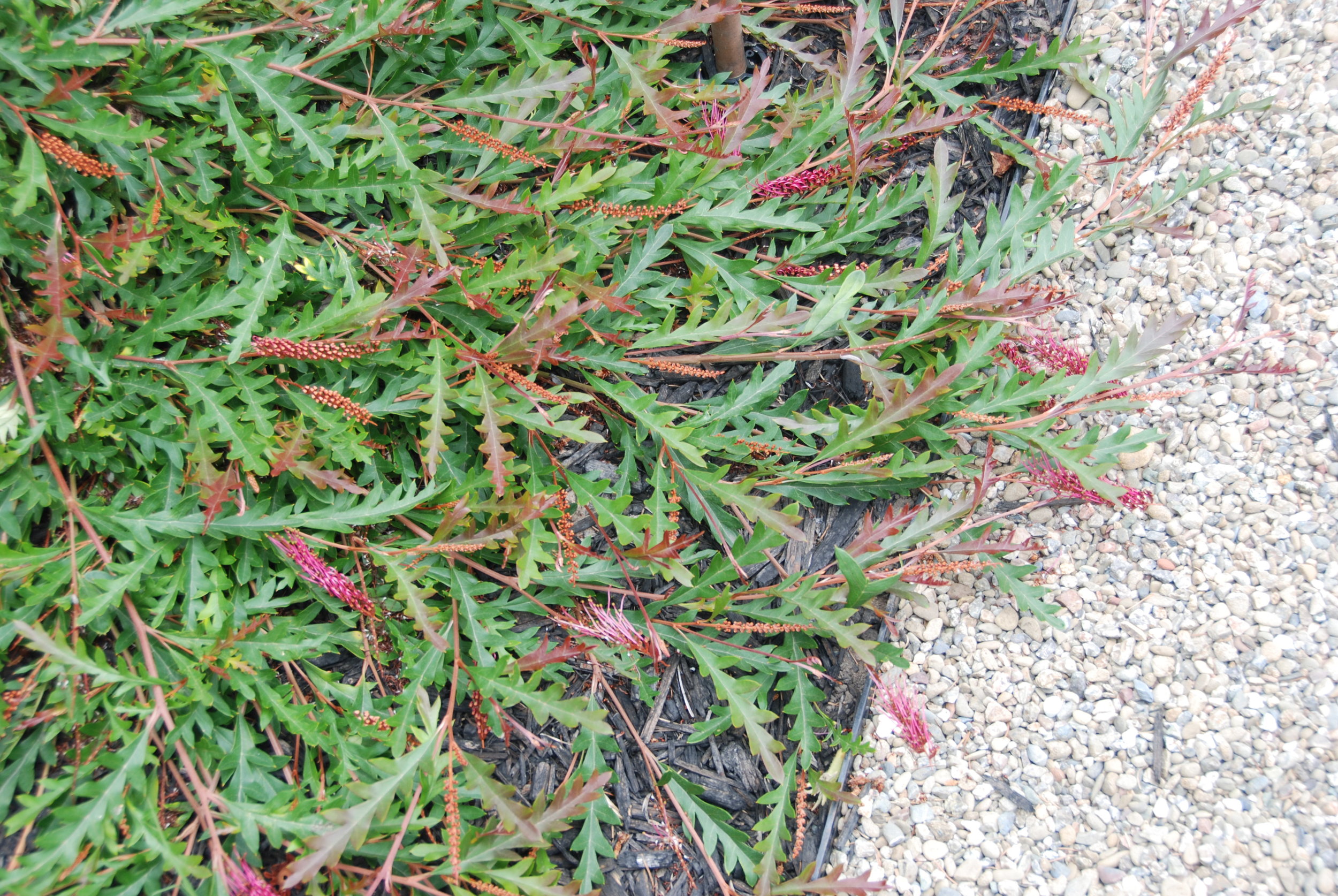 If I had to pick just one favorite groundcover, it would be Grevillea 'Austraflora Fanfare'. A real showstopper with its bold saw-tooth leaves in shades of deep green and bronzy-red on willowy stems that spread densely along the ground—often up to 15 feet!
I almost prefer it when it isn't in flower, but they are the fantastic typical Grevillea "hair brush dipped in red paint." I think of it as beautiful "living mulch" that can economically cover large areas, reduce evaporation and smother weeds.
In the San Francisco Bay Area gardens that I've used it in, it does best with good drainage, a little bit of shade, and very little water once established. It seems to be ignored by deer, rabbits and gophers but is quite attractive to hummingbirds and other beneficials.
This plant can be a little tricky to source these days, but I'm hoping if there is more demand from designers we will entice growers to ramp up production of this fantastic groundcover. It is similar in appearance to Grevillea gaudichaudii but has been more garden tolerant and faster growing in my experience.
by Mary Fisher, APLD
APLD Bay Area District Programs Chair
& CA Chapter Communications Chair
BOOK REVIEW:
Eating on the Wild Side, by Jo Robinson
This is the book I have been waiting for. From the first day I tasted just-picked fruits and vegetables, I have maintained that everything tastes better when you eat it right after it's harvested. I could never find any scientific proof to support my belief until I found Jo Robinson's book—she explains why.
This short yet informative research-based read provides an explanation of how nutrients have been bred out of the food that we eat. Going back to the days of the hunter-gatherers—over 10,000 years ago—Robinson paints an informative picture of how humans have intuitively been selecting the sweetest, starchiest, least bitter and sour edibles, which possess the lowest nutritional value when consumed.
My favorite part of the book is the list of fruit and vegetable varieties Robinson recommends buying, along with instructions on how to prepare them for the most nutritional value. She even points out which varieties can be found in conventional markets and which are more likely to be in farmers' markets, as well as which can be grown in home gardens.
Eating on the Wild Side is a great motivator for finding a special patch of land—or simply a patio—to grow the most nutritious fruits and vegetables possible.
Happy Reading, Healthy Eating
Reviewed by Jackie Seidman
APLD San Diego District Secretary
DESIGNER PROFILE: Richard Hayden
A Sure Bet for the Gamble Garden
For those of you who are only just now meeting Richard Hayden as the new garden director of the Elizabeth F. Gamble Garden and board member of the Bay Area District of APLD-CA, I would like to tell you how lucky you are to have this gem of a man in your midst.
I had the distinct pleasure of serving as Richard's vice president while he was president of the Greater LA District in 2011-2012. After a subsequent five-year stint as head gardener at the Natural History Museum of Los Angeles, he has relocated to Palo Alto for this new position.
The Gamble Garden is in for a treat with Richard on board, not only for his wickedly wonderful sense of humor and a heart as enormous as his charm, but for his true love of design and plant-geek status.
His goals are to attract more visitors to the garden, incorporate updates that fully embrace the watershed approach, and engage more children though educational opportunities.
In the few months since Richard joined the Gamble Garden, he has already identified numerous areas for revamping. The first will be a 70' x 14' pollinator garden, which has already been designed and is just waiting for the rains to ease up before being planted. He will talk about this in his June 27 presentation to APLD Bay Area District "From Traditional to Sustainable: Renovation of a Historic Garden" at 3pm at Gamble Garden in Palo Alto. Sign up for this event at apld-6-27-18.eventbrite.com
When I expressed to Richard how happy I was to have him back in the leadership of APLD he replied, "What better way to get plugged into the community than to reach out to my brothers and sisters at APLD?" Indeed, among the wonderful benefits of APLD is the connection with people and the sharing of ideas and resources.
Go visit the Gamble Garden and say hi to Richard. Tell him I sent you.
APLD AUTHORS:
Nan Sterman
HOT COLOR, DRY GARDEN
San Diego District member Nan Sterman has written an exciting new book: Hot Color, Dry Garden: Inspiring Designs and Vibrant Plants for the Waterwise Gardener. Due for release April 8 by Timber Press, it showcases 15 colorful, low-water gardens across California, Arizona, and New Mexico, where low rainfall is the norm. The book offers a wealth of information on revolutionizing our plant choices and garden practices to create exuberant gardens that thrive in low-water conditions. Her advice for adding color to the garden is enhanced with tips on designing for structure and texture. And her directory of drought-tolerant plants is dazzling.
Nan grew up in the sun-drenched San Fernando Valley and studied botany at Duke University. After consulting for Fortune 500 companies and numerous nonprofits, including botanical gardens, Nan became garden editor for San Diego Home Garden Lifestyle magazine.
A prolific writer, she has penned award-winning articles for the Los Angeles Times, the San Diego Union Tribune, Sunset Magazine, Organic Gardening Magazine and Pacific Horticulture. Her books include California Gardener's Guide vII, and (with coauthors Mary Irish, Judith Phillips, and Joe Lamp'l). Nan is a regular guest on Midday Edition, a San Diego public radio talk show, and has appeared on numerous other local and national shows. She is also a popular speaker at garden shows and is on several advisory committees.
A founding board member of the APLD San Diego District, Nan also somehow finds time to design water-wise gardens for many bedazzled clients.
APLD Leadership Symposium: Looking Back, Moving Forward!
In early March, APLD held a leadership symposium in Orlando, Florida, to help Chapter and District leaders understand the challenges we face as an organization and to identify ways to move forward. Having the opportunity to address these issues with designers from across the country was invaluable for me, and it was gratifying to feel that we are working on them as a team. Over three days we parsed out reasons and trends for our current situation and developed strategies to improve and better communicate what we are about.
In recent years APLD has weathered a Great Recession and a tightening of eligibility to be a member. This has resulted in a significant reduction in active members, and a key goal is to expand our brand to recruit new members and bring those back who have let their membership expire. How do we do that?
The new message of APLD is: Advocacy, Education, and Community. All of these have been present in our organization from the beginning, but now we need to bring them to the front. I have benefited from my membership in countless ways, from learning new design skills to best business practices for our industry. This organization makes me the best at what I do, as it does for all our members. Look for upcoming communications on strengthening our brand, improving our organization, and helping APLD grow. Get involved today!
by David Clarke, APLD
San Diego District President
Once again this year, APLD Greater LA and San Diego members took Palm Springs Modernism Week by storm. The annual February event celebrates midcentury modern design and encourages sustainable modern living—the ideal venue for our talented landscape designers to attract potential clients and raise the profile of APLD.
We sold tickets offering 30 minutes of design advice for $30 to homeowners from throughout Southern California and as far as Texas, Canada and Australia. This year's attendance broke previous records, bringing in an estimated 126,000 people to the Coachella Valley for the week-long event.
A big thank you to this year's designers: Lisa Bellora and David Clarke, APLD, of San Diego and Shawn Maestretti, and Laura Morton, APLD, of Greater LA They were tireless! The great news is that several of the homeowners followed up with the designers and became actual clients!
We are excited to participate again next year, so mark your calendars. Modernism 2019 is set for February 14-24. APLD will be offering landscape design consults February 16, 2019.
by Kristan Browne
APLD Greater Los Angeles District Member & APLD National Board of Directors
APLD Sacramento District Celebrates a Watershed Win
A new opportunity to educate residents about the watershed approach to landscaping and reducing outdoor water use arose when Bobby Alvarez, the City of Roseville's environmental utilities water conservation administrator, told me about the Sustain the Gains Contest. Learning that the contest winner's front yard would be transformed from grass to garden, I jumped at the chance to participate in the sustainable makeover.
A lot of Roseville residents—in fact, over 3,200—wanted to be part of it as well. Entrants provided testimonies about what they'd done to conserve water, such as using a bucket to catch shower water while waiting for it to get hot. The winners, Debi and Kurt Nelson, were selected for their extraordinary water-conserving practices, even when California was not experiencing drought conditions.
The objective of the Sustain the Gains contest was to encourage residents to continue water-efficient behaviors established during the most recent (and continuing) drought, in keeping with Governor Brown's Executive Order B-37-16 to "make water conservation a way of life in California." Creating this contest is a testament to the city's reputation for being progressive. They also developed videos about the project and held a gathering for the community to meet the appreciative and deserving Nelsons, and to learn about this watershed-wise landscape transformation.
Having worked with Roseville's Water Efficiency Division on a number of projects, such as the Greener Gardens Tours, and teaching numerous River-Friendly–based workshops, I was asked to coordinate the transformation process and design the winner's front yard. Martin Carrion van Rijn, APLD Sacramento District president, was selected to be the installing landscape contractor. (Cheryl and Martin also worked together in 2016 on "The Garden on Eden Way" project for the Sacramento Suburban Water District. Learn more and watch a video by clicking here.)
While the Nelsons' front yard was not large enough to require meeting Model Water Efficient Landscape Ordinance (MWELO) specifications, we designed and installed it as though it were.
Furthering the APLD connection, two of our sponsors partnered with Roseville for the contest. Gold Sponsor Green Acres Nursery donated a $500 gift certificate, which was used for decorative containers, and Silver Sponsor Hunter Industries / FX Luminaire donated irrigation equipment—everything from the Hydrawise controller to the valves, dripline and fittings, and Eco Indicators!
During our site assessment, we learned that winter rains send water from the American and Sacramento Rivers streaming through the front yard, down a slope and into storm drains. We practically jumped for joy! It was the perfect scenario for demonstrating a key principle of the watershed approach: retaining and infiltrating storm water. By contouring the soil to create swales and carving out rain gardens and spillways, we created a truly functional stream bed.
While we were thrilled with this opportunity, we also faced the time-crunch and budgetary reality of the makeover contest/municipality demo, so we needed to compromise some of our ideals about staying 100% true to the watershed principles.
We used a sod cutter (gasp!) instead of sheet mulching the lawn, and heavy equipment for some demolition. But throughout the installation Martin mitigated soil compaction, for example, by laying down large pieces of plywood for wheeling in boulders.
This project was a good lesson in reminding us of the need to be creative when dealing with real-world conditions. Watershed principles are not a set of rigid rules, but a set of principles applied by making sound decisions. The reward of selecting appropriate plants, nurturing the soil, and building rain gardens is that even a small investment can result in a landscape that is both beautiful and functional.
Once the highly efficient irrigation system was installed and the numbers were totaled, we'd used 20 cubic yards of mulch, 37 species of plants (81% drought tolerant and 27% California natives), 5 cubic yards of compost, and worm castings in each of the 142 planting holes.
As the project came to an end after the last of the mulch was pulled away from the base of each tree and plant, this gorgeous landscape promised a savings of over 33,000 gallons of water per year. The Nelsons will definitely be successful in "sustaining the gains"!
Above garden featured in our April 8th LA garden tour. Design and photo: Ketti Kupper of Conscious Living Landscapes
APLD California Chapter
2018 Sponsors
Through sponsorship of APLD California Chapter, these industry leaders declare their support for best practices, educational programs and events, and the highest standards in landscape design. From veteran materials suppliers to producers of cutting-edge landscape products, these companies have committed to connecting with professional landscape designers and our clients.
OUR PLATINUM SPONSOR:
OUR GOLD SPONSORS:
Simply click on a logo below to visit the website of one of our sponsors.
UPCOMING EVENTS
bold = APLD or APLD sponsor event
APRIL
APR 7-8: A River Runs Through It, a two-day regional event presented by APLD Greater Los Angeles and San Diego, with speakers at Descanso gardens in La Cañada Flintridge and a garden tour in Los Angeles.
APR 7-8: Going Native Garden Tour, a free tour of native gardens in the SF Bay Area.
APR 9-10: Greening the Golden State Conference in Sacramento.
APR 10: Website Renovation, an APLD Bay Area panel discussion in Lafayette about boosting your online presence.
APR 10: National Watershed and Stormwater Conference, webcast and live in Maryland and Virginia.
APR 17: Devil Mountain Wholesale Nursery hosts an event at the Proven Winners CA Spring Trials Site at the Historic Kirigin Cellars in Gilroy.
APR 18: Village Nurseries Plant Expedition, an exclusive behind-the-scenes day at the 2018 California Spring Plant Trials in Santa Paula. RSVP and questions: swiest@villagenurseries.com
APR 19: Get Fired Up for the Back Yard, a fire feature event by APLD Bay Area and gold sponsor Peninsula Building Materials event in Mountain View.
APR 23-26: Old Growth/New Growth, the 84th Annual Western Chapter International Society of Arboriculture (WCISA) conference and trade show in Santa Rosa.
APR 25: Sustainable Landscapes: In What Material Should We Build?, a presentation with UC Berkeley lecturer and author Caren Yglesias; hosted by APLD Bay Area and gold sponsor Lyngso Garden Materials, in San Carlos.
APR 25: Landscape Design Intensive, a presentation by the American Garden School in Sonoma.
APR 28: PerkPave (pervious concrete) workshop with APLD Sacramento District in Davis. RSVP to ryan@perktop.com.
THE QUEST FOR THE BEST: UC Davis Landscape Plant Irrigation Trials
For the past 12 years, University of California researchers have been performing irrigation trials to evaluate landscape plants for performance with low water. This information has been informing decisions on plant marketing, hydrozoning, and suitability of new cultivars for northern California.
Three times a year UC Landscape Plant Irrigation Trials (LPIT) invites members of the professional landscape, nursery, and horticulture industries to the UC Davis field site for an Open House Ratings Day. The spring event will take place Tuesday and Wednesday, May 1 and 2, 8am–12pm (you may choose either day). You will be able to walk through the fields, rate a sample of each exciting new cultivar at the beginning of its second summer in the ground, and chat with researchers about the trials and plant water use.
All new landscape plants undergo evaluation in plant trials before being introduced to the market. At the University of California, these trials take on the additional aspect of screening for performance under several levels of reduced irrigation to judge their suitability for California's low-water landscapes, and to place them in the WUCOLS water-use categories of Low, Moderate, or High.
All plants in the trials will have been irrigated for their first full year on an establishment irrigation schedule at 80-100% of ET0 (reference evapotranspiration). Their second year they will receive one of three irrigation treatments aligned with the WUCOLS categories.
Our participants from the last few years have unanimously reported the great insight gained in seeing new plants in the ground, and participation has doubled each of the last two years. To join us on one of the days, you must register for the event by clicking here. After registering, you will receive directions and other information in a reminder email one week before the event. We value your input and hope to see you there!
Please give a warm welcome to these new members of the APLD California Chapter.
Congratulations to Recently Certified Members:
Call for Submissions!
We invite your participation in California Landscape Design. Please send us your story ideas before June 22, 2018 to be included in the summer edition: newsletter@apldca.org.